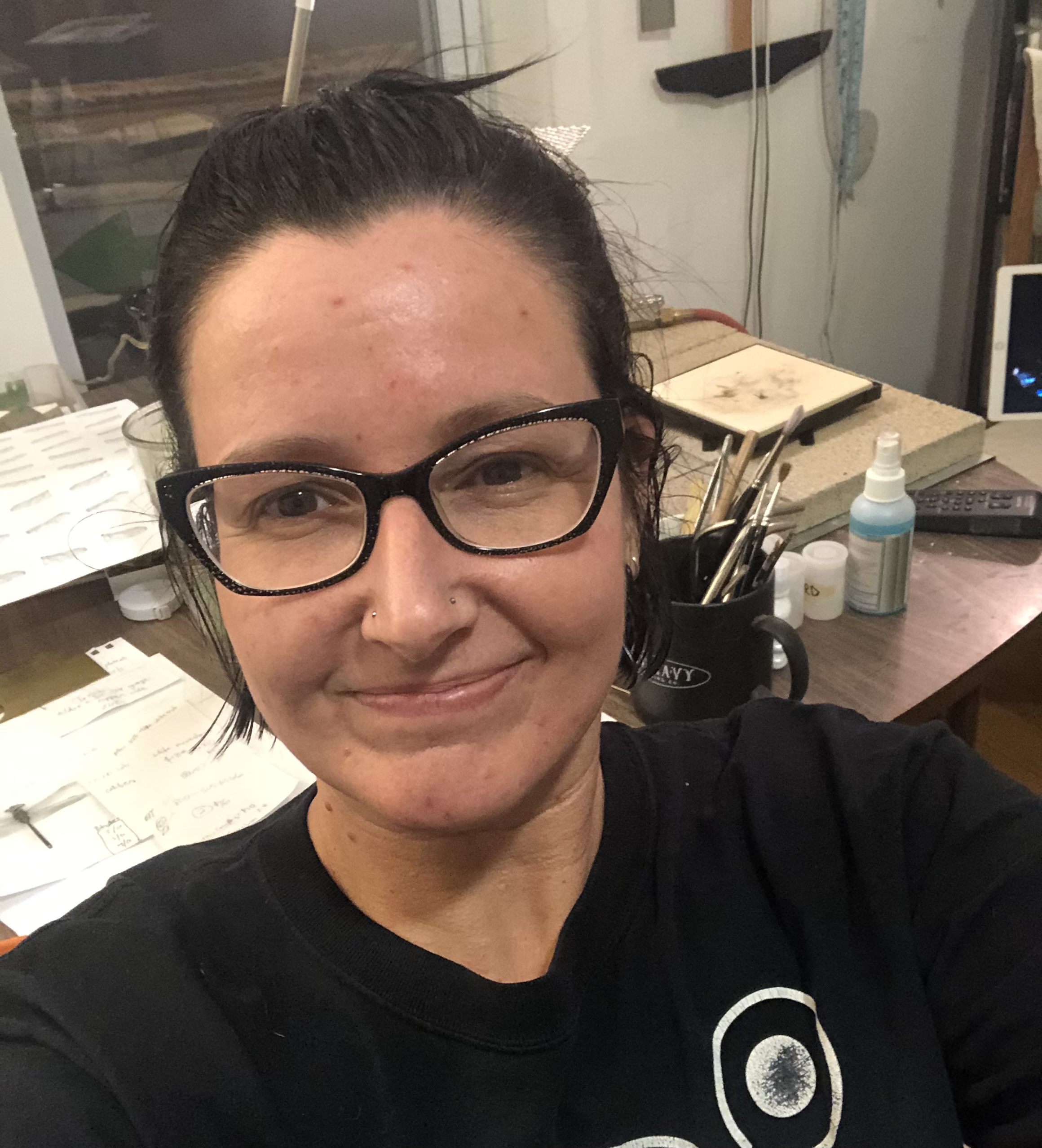 Hi, I am Carrie Fox, the artist behind all of these pieces. Throughout my life I have enjoyed time spent outside in nature; going on hikes, observing and engaging with everything around me and learning about it all. As a little girl I was mostly found outside playing or working on creating something, often both simultaneously.
My passion for art really took root when I was selected to be part of an advanced art class in elementary school. A small group of us were given the opportunity to work with our school's art teacher outside of regular class, who guided us through a variety of projects using many different mediums. This experience made art even more special and exciting to me and helped to push me further on my path as a young artist.

I held onto my love of creating art with a variety of mediums through all of my years of education. while my main focus was fine art in high school, I also dabbled in sewing and fashion. I decided to continue with art by pursuing a BS in Apparel Design and Technology at Purdue University, focusing on wearable art and pieces that challenged expectations and deviated from the norm.
My interest in metalsmithing was sparked when I took a couple semesters of it in college as part of my fine art curriculum. I was hooked! I especially love how it makes wearable art more readily accessible to everyone. Skip ahead about twenty years; after finding myself in an uninspired job and nearly losing touch with my love for creating art, I found a small school in Chicago (Lillstreet Art Center) that offered metalsmithing classes. In 2016 I started taking classes; I am so grateful I took the leap and started creating again! After a slow start, everything started lining up and falling into place on this new path, and here I am!
I hope my work resonates and you find all of my pieces as lovely and enchanting as I see them. I try to showcase nature in my art whenever I am drawn to do so; I find nature to be a great source of magic and very powerful. I incorporate intention and beauty to create something you will not find anywhere else. Though occasionally I may make duplicates of something that I really love, most of my pieces are one of a kind. I find that creating unique pieces that really speak to you makes them extra special and meaningful to the owner.

Thank you for finding me and my creations.
I hope you Enjoy!